The Get Home Bag Is For Regular People, Facing Irregular Circumstances.
81% of the American population live in either suburban or urban areas, not camp Crystal Lake. The Get Home Bag is designed, to get you home, under less than ideal situations, realistically.
RETAIL VALUE IS OVER $1,000+
BUY NOW
URS THE GET HOME BAG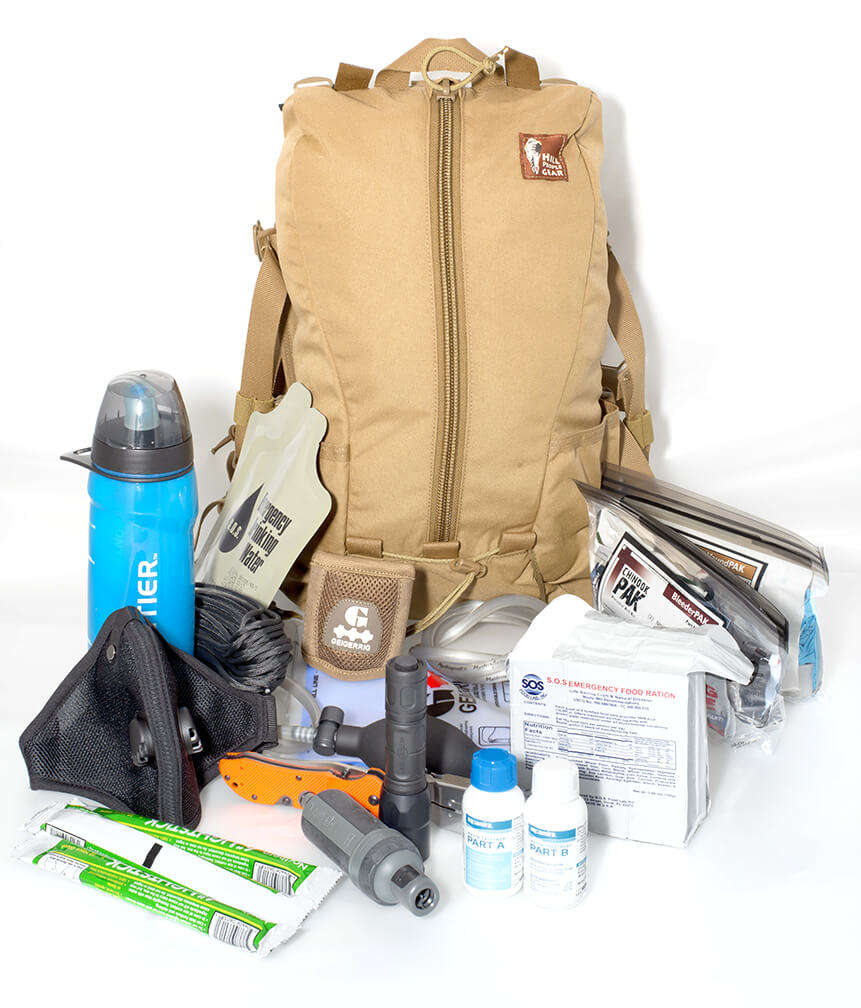 The most comprehensive complete urban survival bag (go bag)
Redefining the term Go Bag, it's no longer associated with a noun, as a thing, but a verb. Go, means to move, or mobility, speed, intent of directional change, to take action.This is the get home bag. The verb/action is getting home.
Features highly mobile pack with adjustable yoke strap system. Front pack allows you to carry the most important items up front and have them readily available even if pack is off. Entire system is light, allowing the wearer to travel farther with less fatigue.
All contents of the bag were selected as the very best items available in the market.

Contents include:
Hill People Gear Tarahumara backpack and Snubby front pack.
Geigerrig hydration system, level IV virus filtration & 20oz filtered bottle.
3600 cal ration & 16oz of water with 5 year shelf life.
Benchmade Triage knife, Surefire Pro G2X Light & SOG Powerlock multitool.
RZ carbon filter mask, Chinook wound & bleeder medical kits.
Paracord and chemlights, because you gotta have paracord.
Complete bag weighing in a light 9.2 lbs with hydration pack empty
HILL PEOPLE GEAR TARAHUMARA PACK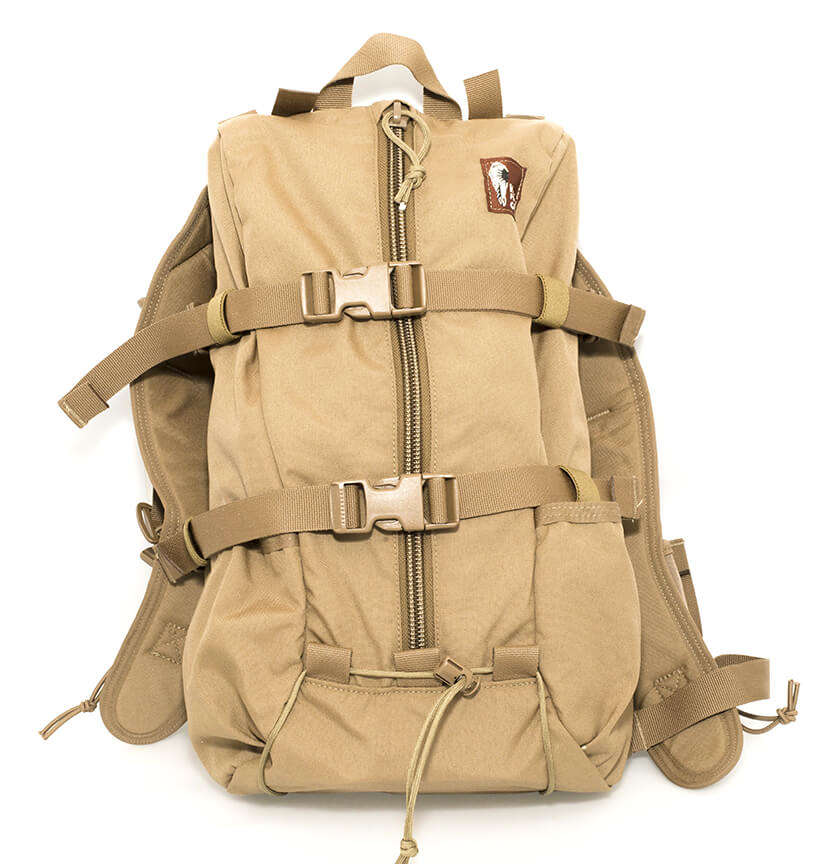 The most important aspect of any kit, the bag.
1.44 lbs
500D construction
Two Nalgene side pockets
Hydration Bladder Pocket
Parachute & Cord-lock compression system
Dual Horizontal compression straps
Single interior opening, efficient use of space for a smaller pack.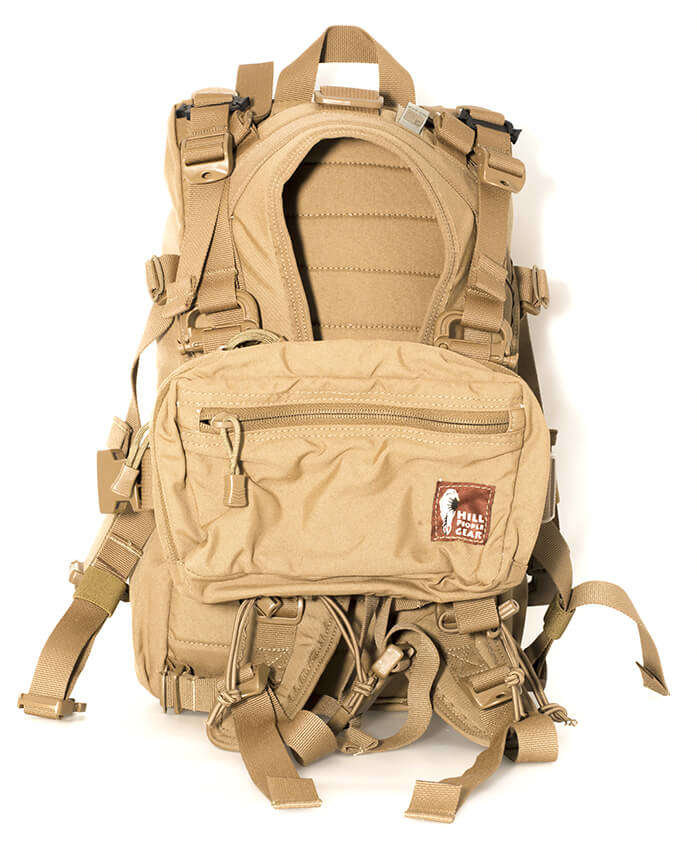 Fitted with Snubby Kit Bag in front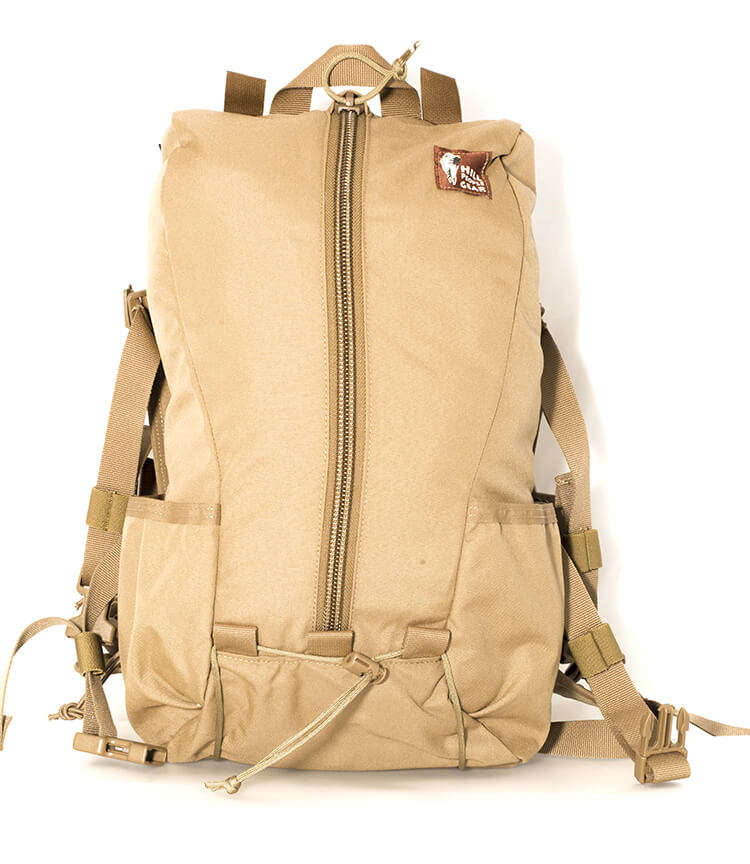 Compression straps are removable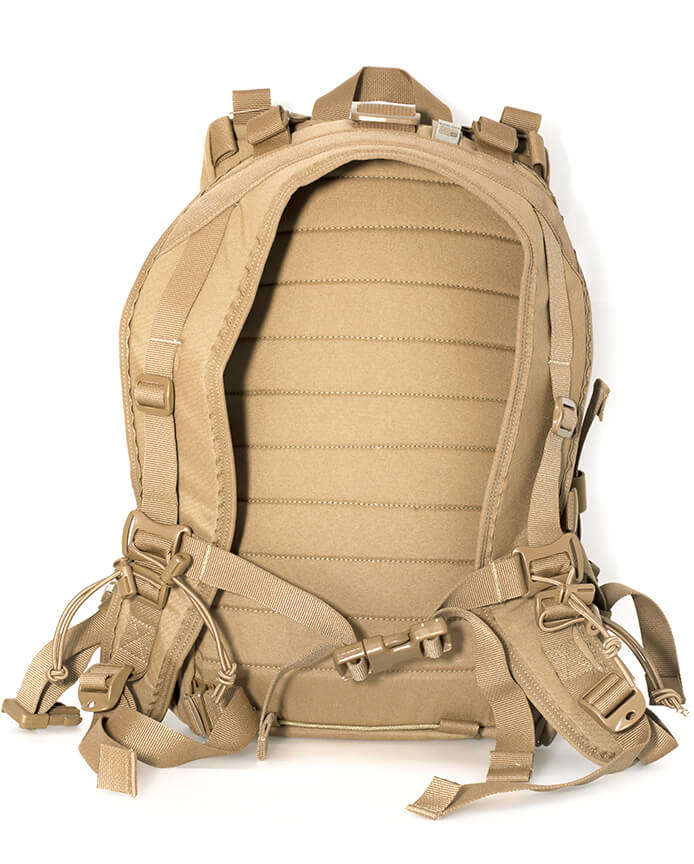 Padded back with an excellent yoke system
HILL PEOPLE GEAR ORIGINAL SNUBBY KIT BAG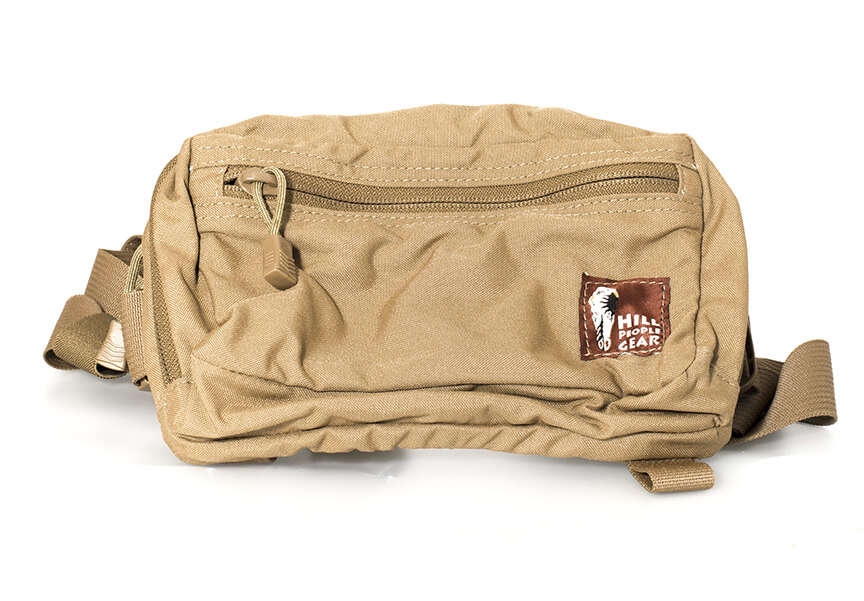 H-Harness allows it to be worn underneath or connected to the Tarahumara pack.
500D construction
0.88 lbs
Width 8.5 in
Height 6.0 in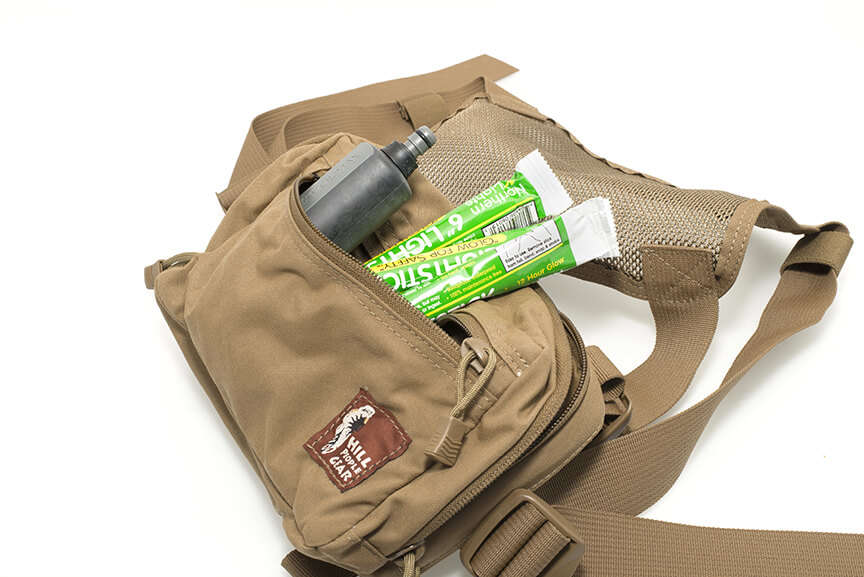 Front zippered access flat pocket with two interior slot pockets with dummy cord loops above them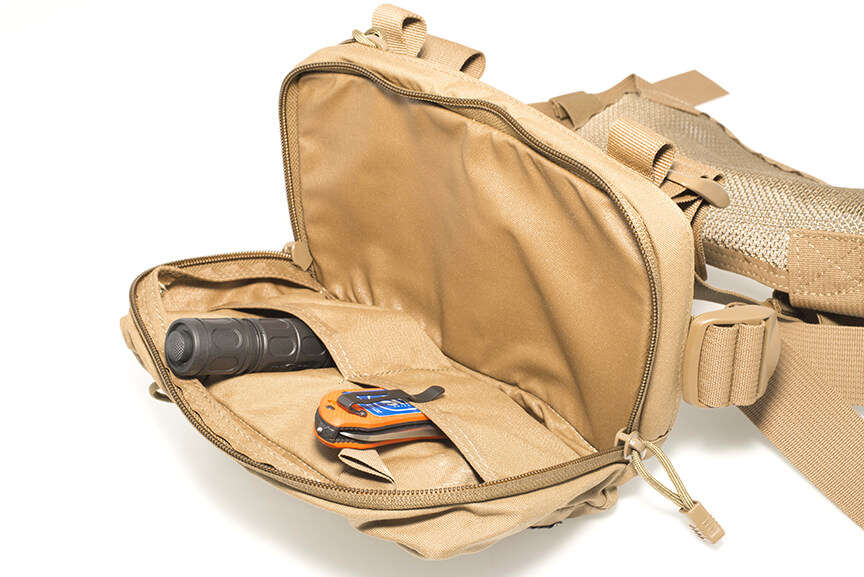 large 1" deep main compartment with dual interior slot pockets with dummy cord loops above them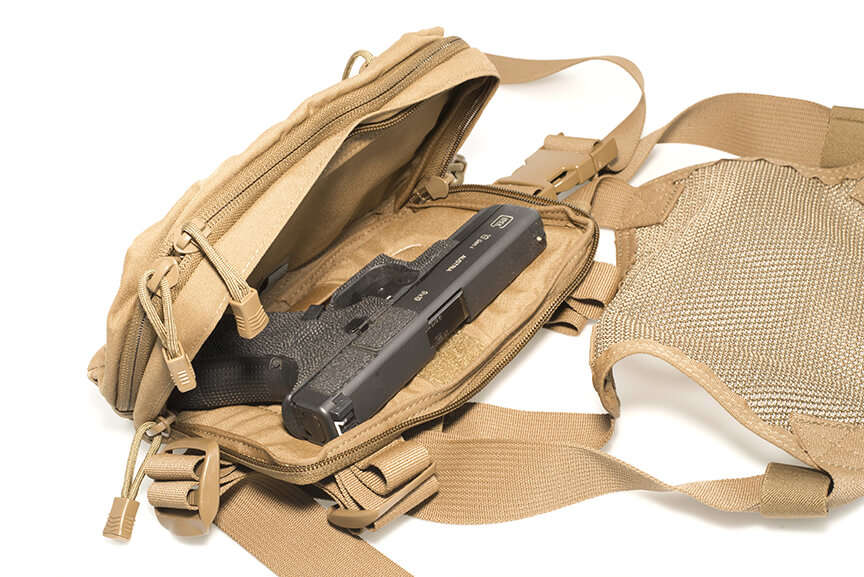 quick access concealed pistol compartment.
Velcro loop and dummy cord loop in pistol compartment allow for various retention options
Will fit most subcompacts and smaller frame pistols.
TOOLS, UTILITY & ILLUMINATION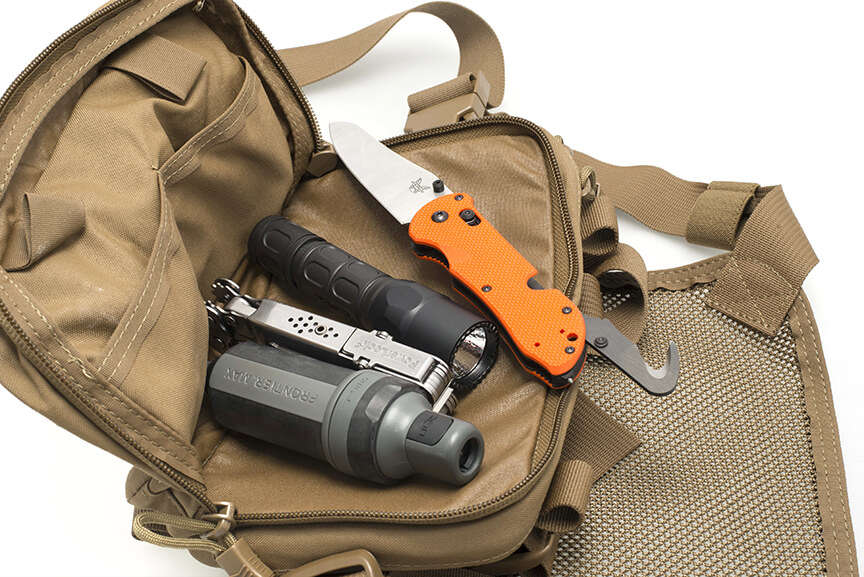 Surefire G2X Pro Flashlight
Virtually indestructible LED emitter regulated to maximize light output and runtime
Two output levels—high for maximum light, low for extended runtime
High 320 lumens / 2.75 hours
Low 15 lumens / 45.0 hours
SOG Powerlock W/V-Cutter Multitool
Compound leverage gears
One Hand Opening
18 Tools
420 Stainless Steel
Benchmade Triage Knife
Designed for search and rescue and all first responders
Built in glass breaker and V-Cutter
3.5in Sheepsfoot blade
G10 Handle & Axis locking mechanism
AQUAMIRA & GEIGERRIG HYDRATION SOLUTIONS
The Only Filter Approved By the EPA To Remove Viruses.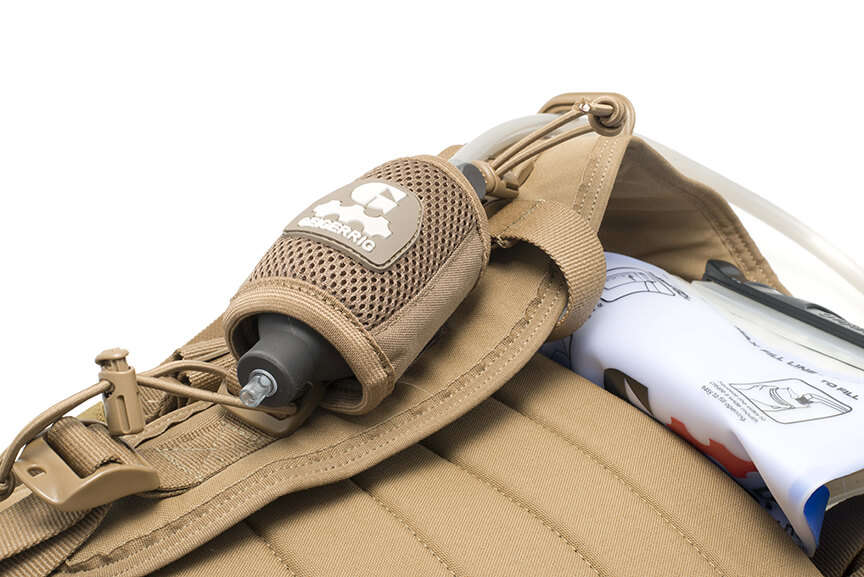 Geigerrig 70oz/2L Hydration Engine
Geigerrig 2L Pressurized Hydration System
Filter-ready reservoir with quick release valves.
Fully reversible, dishwasher safe.
Slide top for easy refill, cleaning, and drying.
Nylon fabric, BPA and Phalate Free
Includes frontier Series IV red line virus filter.
Geigerrig hydration bulb holder
Frontier Max Filtration System W/Red Line Filter
The RED Line offers maximum thirst protection against virus, bacteria, and cysts.
Miraguard™ Antimicrobial* Technology suppresses the growth of bacteria, algae, fungus, mold and mildew.
Filters 120 gallons, BPA, chemical, phalate and iodine free.
MEETS OR EXCEEDS ANSI/NSF 42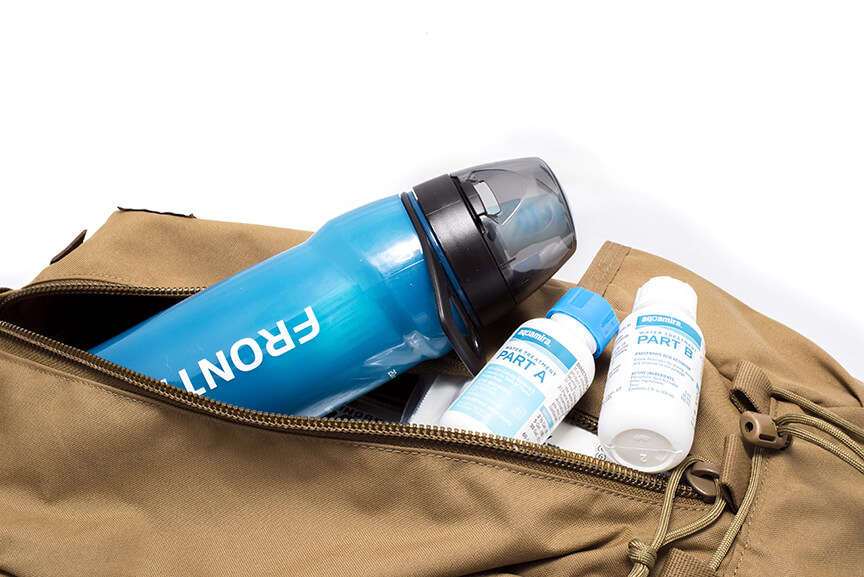 Aquamira Frontier Flow Red Line Filtered Water Bottle & Water Treatment
The Frontier Flow Red Line Water Bottle
22 oz. (663 mL) bottle BPA, chemical, and iodine free.
Maximum protection RED Line Virus Filter.
Protective Cap helps keep the Bite Me™ valve clean.
Finger ring allows for easy transport and connection to packs.
Aquamira Water Treatment
2 oz. size for treating larger batches of water.
Perfect for treating stored water in 55 gallons or smaller.
Once treated stored water has a 5 year shelf life.
Kills odor causing bacteria and enhances the taste of stored potable water.
Easy to Use, No Aftertaste, Treats up to 60 gallons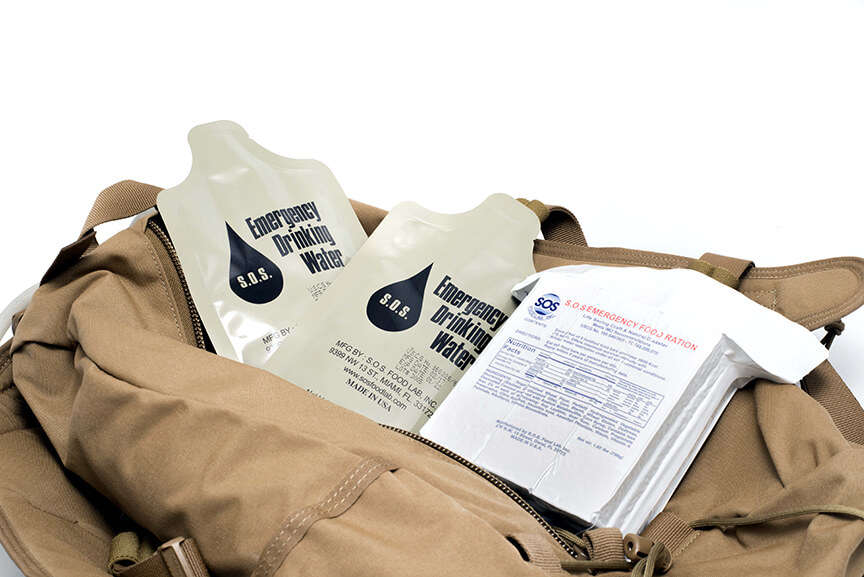 S.O.S Emergency Drinking Water and Rations
Water and rations both have a 5 year shelf life
4X 4.0 oz Emergency drinking water pouches, 16oz total
3600 Kcal food rations in 9 food bars
Offers maximum survival capacity with drinking water restriction under all environmental conditions.
Approved by the coast guard
RZ CARBON FILTER MASK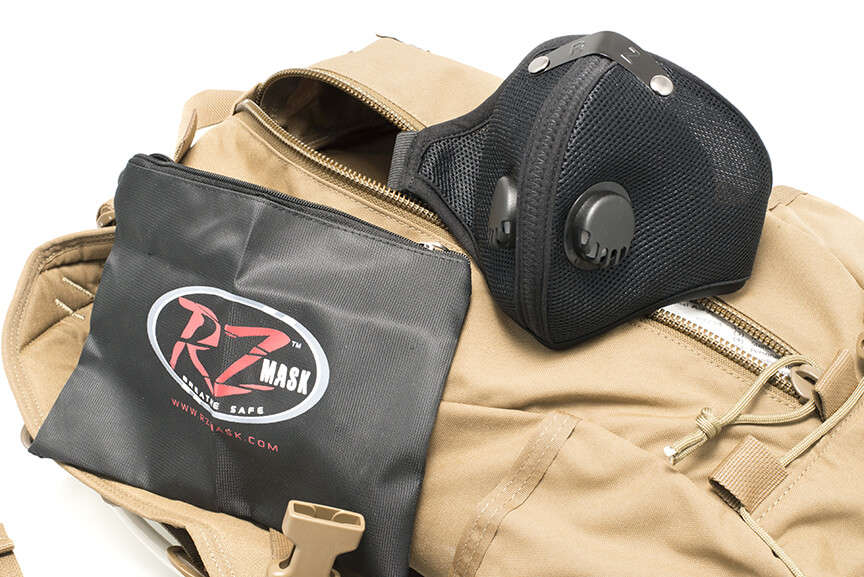 The RZ M2 Mesh Carbon Filter Mask
Block 99.9% of airborne particulates sized .10 micro or greater.
Protect against, dust, pollution, allergens, odors, smog, influenza & smoke.
Mesh construction, lightweight, breathable, replaceable active carbon filters.
Dual one-way discharge valves, reduce condensation
Adjustable nose clip – Prevent fogging
Adjustable velcro strap, universal fit, versatile, durable & washable
Filters tested at Nelson Laboratories, USA, includes Two filters.
CHINOOK MEDICAL KITS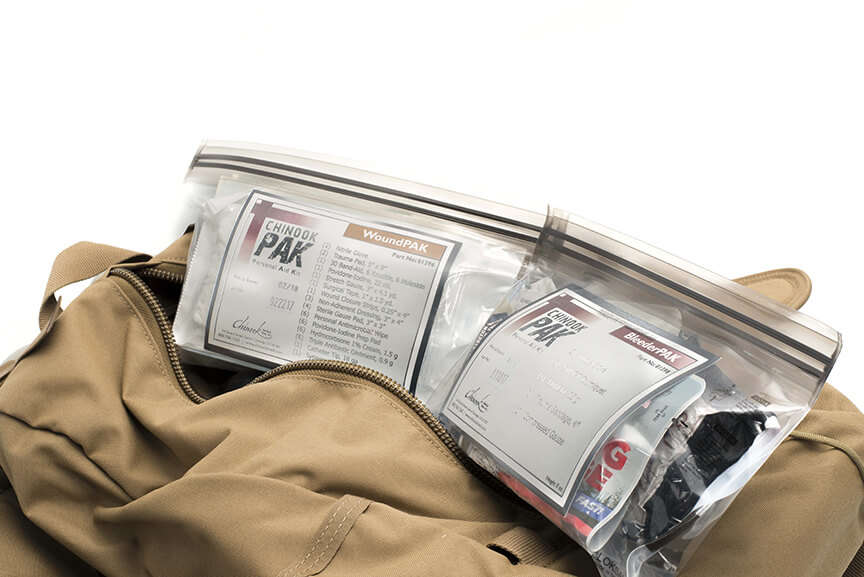 Chinook Bleeder & Wound Medical Kits
Contents:
2X Nitrile Glove, LG/ SWAT-T Tourniquet/ QuikClot, 25 g/ Trauma Bandage, 4"
Compressed Gauze/ 2X Nitrile Glove, LG, BK/ 2X Trauma Pad, 5"x9"
30X Band-Aid, 6X Knuckle, 6X Moleskin/ Povidone-Iodine, 22 ml
Stretch Gauze, 3"x12 yd/ Surgical Tape, 1"x1.5 yd/ Suture Strip Plus, 0.25"x4"
3X Non-Adherent Dressing, 3"x4"/ 4X Sterile Gauze Pad, 3"x3"
6X Personal Antimicrobial Wipe/ 6X Povidone-Iodine Prep Pad
6X Hydrocortisone 1% Creme, 1.5 g/ 6X Triple Antibiotic Ointment, 0.9 g
Catheter Tip, 18 ga/ Syringe, Sterile, 10 mL